Steffes Hosted Hands On Training For GRE Cooperatives
Steffes Electric Thermal Storage (ETS) hosted an advanced technical training in Baxter, Minnesota on August 29th and 30th . The training was conducted by Steffes ETS experts Julie Thorpe, Technical Support Manager; Tom Steffes, Product Development Manager; and John Diem, Regional Sales Manager.
Steffes invited partners from electric cooperatives in the central Minnesota area that are a part of Great River Energy (GRE) for technical training on Steffes ETS  products that they service and sell to their customers. Steffes ETS heaters assist the electric cooperatives manage their energy usage and help control their load of demand.
The two day event consisted of discussions on how to recognize and troubleshoot issues with parts and electrical malfunctions in the field, how the technology and components of the heaters work , and hands on training with models of ETS Heaters and their electrical components. 
This training is part of our commitment to ensure that our heating units are effective and reliable for the home owner and to make selling, installing, and servicing them as easy as possible for our partners at electric cooperatives.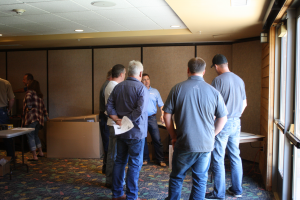 This is the first time that Steffes took factory training directly to our electrical cooperative partners. Previously, it was held at Steffes headquarters in Dickinson, North Dakota. Cooperative employees enjoyed the convenience and the informative sessions that Steffes provided over the course of the two day event.
Thank you to everyone who attended the training!